Livable Cities Newsletter #1 - November 1-15, 2005
The Journey Begins!!!
November 1, 2005
NOTE: You're in Newsletter #1 for the OnLine "Livable Cities" magazine
Hold on tight!!
Life's an Adventure!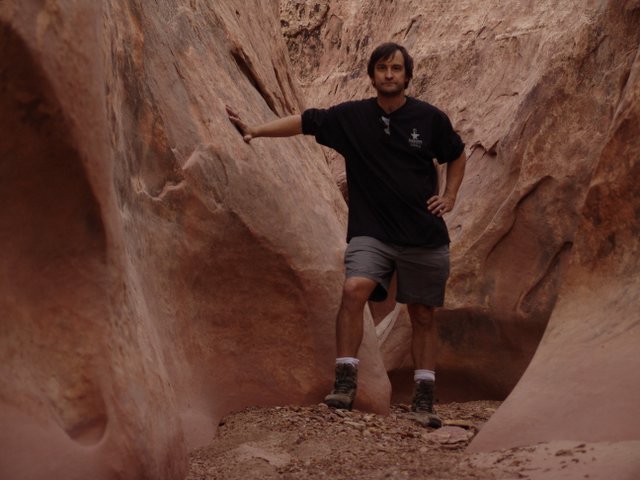 Photo of web creator, Priorities Institute Director, Livable Cities editor, social intellectual adventurer: Logan R. R. Perkins - in Little Wild Horse Canyon, San Rafael Swell, Utah
THE STORY BEGINS:
After five very productive years, my job in educational enrichment development ended. So, I put everything into storage and decided to go on an andventure! Wahoo!!
###############################################################################################
As a mini background, I started The Priorities Institute in Denver, Colorado in 1995 to explore issues of critical importance that are not adequately researched by existing educational, media, research, governmental or other organizations.
Examples:
Excessive Dependence on Automobiles
Sustainable Regional Land Use Planning
I also had a cool loft in Denver, overlooking the Convention Center and the mountains.
On November 1st, I put all my belongings into storage, and took off west in my van towards the canyons of Utah.
My objectives are diverse. [MISSION STATEMENT]
Given that a picture speaks a thousand words, I'll include lots of photos for contemplation.
West on I-70, just past the Morrison exit - ColoRADo
Heading past Loveland Ski Resort, open over a week already!!
There's people on them lifts!!
Loveland Ski Resort, Colorado - Great Continental Divide Skiing!!!
Lake Dillon, Summit County - Playground of Colorado!?!
The drive from Frisco to Copper Mountain Ski Resort
The music of this drive includes: KCUV-AM from DenVUH, Capt. Beefheart & Harry Belafonte
Arriving late Nov. 1, Monday evening in Glenwood Springs. Heading to the hostel, checking in and heading for Glenwood Canyon Brewing Co. Yummm...Salmon with lobster and artichoke cream cheese sauce with vegies, rice, and a salad, with Vapor Cave IPA & No Name Nut Brown brews. The IPA was tasty , nicely balanced with good hops - rating: +++1/2. Nut Brown was very nice, smooth and tasty +++.
PHILOSOPHICAL DEBATE ABOUT THE MEANING OF LIFE & OUR PURPOSE IN LIFE
Sitting at the bar next to me was a man who took me to task on Good vs. Evil, Serving Onself vs. Others, and how these definitions collide. He's from Colorado Springs, home of Focus on the Family....and Bristol Brewing Company....hummm! He said that you can't serve oneself and others in good ways and God is necessary to guide one towards good and serving others. I suggested you could serve yourself and others in a civilized and harmonious manner. He wouldn't agree. I suggested that he read the book of Thomas, and he suggested I read Perterson's "The Message."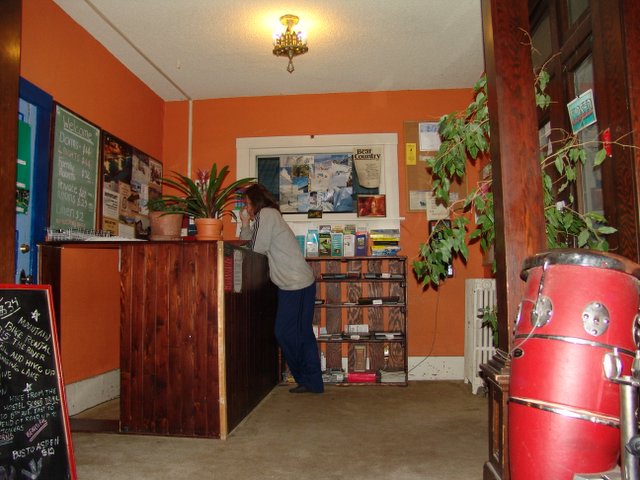 The evening is young...I contemplate my situation...after a month of packing I've moved all my cool belongings into a 10' x 25' storage unit in north Denver...yikes!!! Some stuff (e.g. 30 cases of beer; 40 years of photos) is with friends, and the rest is in my super cool white van...da da da...super cool white van.
Anyway, at the hostel, this is a cool hostel by the way, if you find your fine self in Glenwood Springs on the cheap...real cheap!!...there's dorms, and some private rooms, and they've got hundreds of old record albums in the middle of the floor..stuff like X, Eddie Jefferson, Kate Bush, and Miles Davis. They're just waiting for someones fine hands to place them correctly on the turntable. Sadly, most are is so-so condition, and many are in the wrong sleeves, but all in all, for a big music lover, it's way cool!!! Great Place that I really enjoy hanging at...and great town...did I mention Great City...uh...Town!!!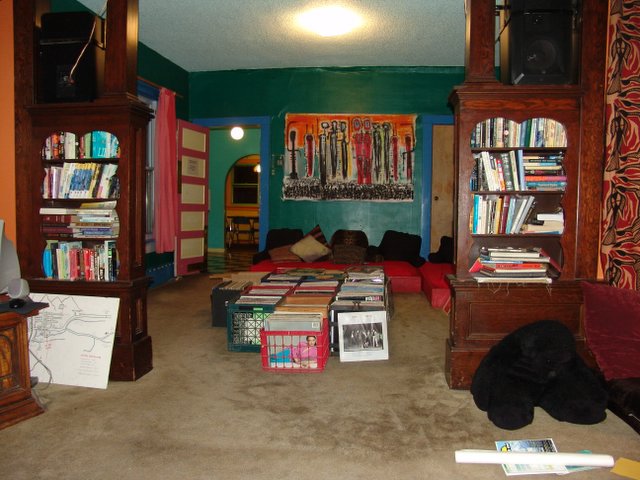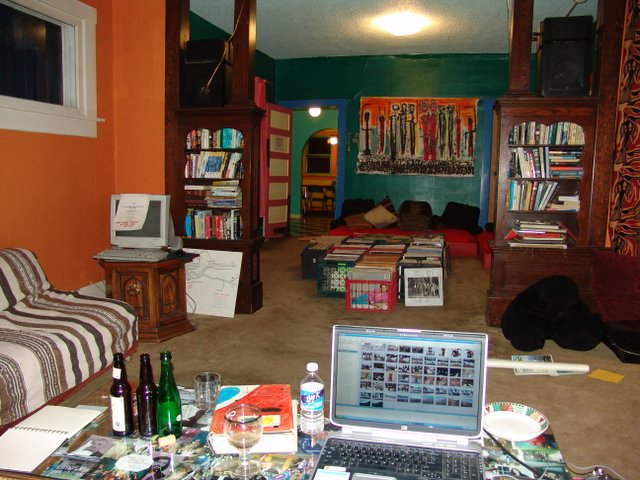 Oh yeah, then I start talking to one of the hanger-on dudes that kinda helps out really dude, and he mentions Belgian lambics, and I say, "Well, uh, I got a Giradin 1882
Gueuze in the van...the cool white van, uh, you wanna try it..."
and all is well except...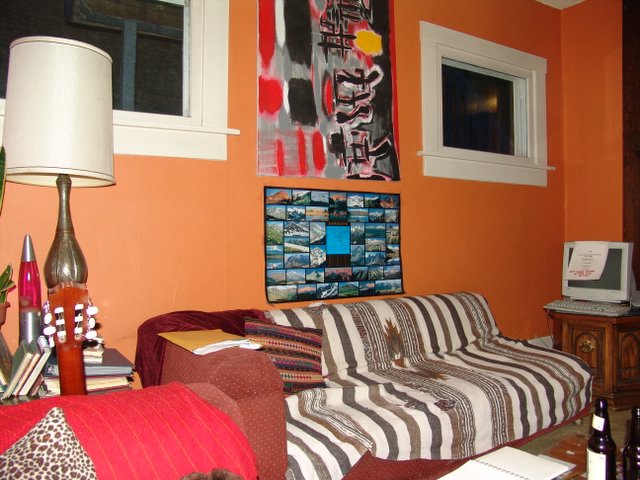 One has to remember that when transporting bottles with corks, especially highly carbonated brews, that they need to sit for a long spell, or be opened over the sink...!! :))
So, the cork blew, I poured a glass but it filled too quickly and I had to suck overflowing gueuze as it overflowed and my mouth got too filled with carbonation so I ran out the door with the gueuze spewing and blew my mouthful on the front lawn, wow, exciting moment...; and sadly there's no photos of that incident, but all thourougly enjoyed the brew, - foreigners and locals Wahoo!... and they enjoyed Colorado Springs Bristol Skull and Bones series Oud Bruin, and a good time was had by all... da da :))
OPTIONS
"Choose Carefully Grasshopper"
a:) Next Day...yeah...great choice...Wahoo!! This is the right choice..hint...hint :) A nudge is as good as a nod to a blind man..wink, wink!!
Next Stop: Click Here for LITTLE WILD HORSE CANYON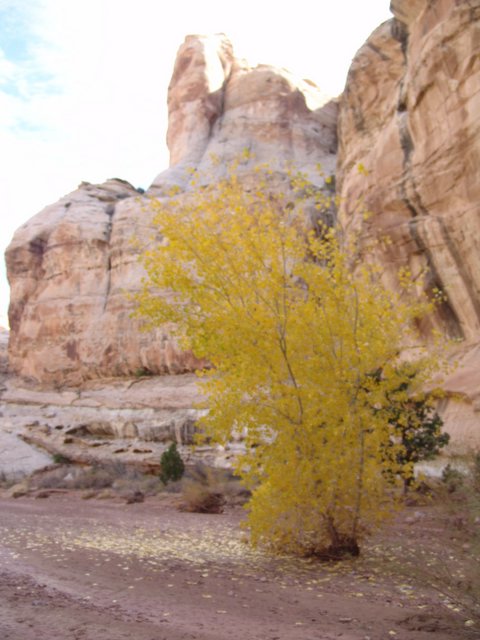 #######################################################################
b:) A really Big Social Issues Index - click HERE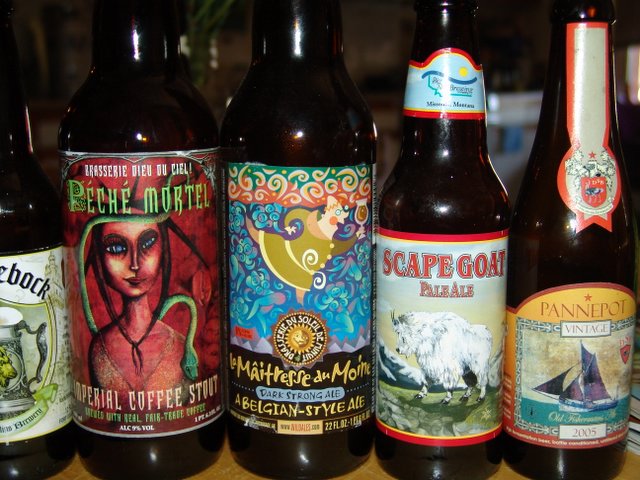 c:) Beer Index
d:) Cities Index; e:) Utah Index; Contact: logan@priorities.org
HOME PAGES: www.gr8city.com --- www.priorities.org
Livable Cities Newsletter #1 Index -- Livable Cities Home -- Livable Cities Sitemap
The Priorities Institute -- The Priorities Institute Sitemap -- Beer Pages -- Art Pages
Livable Cities Online Magazine
November 1-15, 2005 - ISSN #1099-3231
Website and Photos by Logan Perkins. For Inquiries, or to Donate: logan@priorities.org