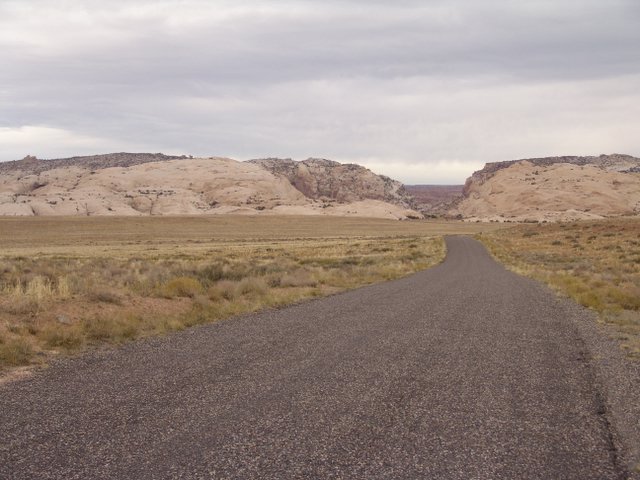 LIVABLE CITIES NEWSLETTER #1
Exploring Cities, Towns, and Places In Between
Index
November 1-15, 2005
The Journey Begins!
The journey begins from Denver, with this author/editor putting all his belongings into storage, packing the van, and heading west!! Across the Rockies past snow covered ski resorts to the canyons of Utah and Arizona and a few scattered towns. While this journey will search for livable, exciting, and replicable features of our urban communites, it will first highlight some of natures beauty.
The first 15 days of travel covered about 2200 miles, from Denver to the Moab, Utah area, then south to Blanding, Utah, Glen Canyon, Escalante, Bryce and Zion National Parks. In Arizona we see the Grand Canyon, Flagstaff, Sedona, Petrified Forest National Park and Canyon de Chelly. Near the Four Corners area Hovenweep, Cortez, Mesa Verde and Durango are explored and enjoyed! So, to start this journey click on any hyperlinks below to an adventure into some of Americas finest natural places. There are a lot of choices and lots of photos, so you might want to pick the most appealing first, especially if you have a slow download. - Logan Perkins, Editor
11/1 - The Journey Begins - Denver to Glenwood Springs (Loveland Ski Resort, Summit County, Lake Dillon, Copper Mountain Ski Resort, Glenwood Springs Hostel)
11/2 - Glenwood Springs to San Rafael Swell, Utah (Interstate 70 into Utah, Green River, Highway 24, San Rafael Swell, Little Wildhorse Canyon)
11/3 - Little Wild Horse Canyon (Crack Canyon Wash, San Rafael Swell, Moab sunset)
11/4 - Moab - Poison Spider Trail (Utah County Road 279, mountain biking, Moab, Colorado River)
11/5 - Moab south to Blanding (Moab, Monticello, Blanding, Butler Wash Ruins, Mule Canyon Indian Ruins, sunset)
11/6 - Natural Bridges National Park to Glen Canyon National Recreation Area, Hall's Crossing ferry to Bullfrog, Waterpocket Fold, Capital Reef National Park, Grand Staircase-Escalante Nat'l Monument)
11/7 - Hell's Backbone to Bryce National Park (Boulder, Grand Staircase-Escalante, Bruce Canyon National Park)
11/8 - Zion National Park (Angel's Landing trail) - the Checkerboards
11/9 - Zion bike path, Springdale & Hurricane, Utah. Arizona's Colorado City & Pipe Spring National Maonument
11/10 - Grand Canyon north rim & Flagstaff (Flagstaff Brewing Co., Mogolla Brewing, Beaver Street Brewery)
11/12 - Petrified Forest National Park
11/13 - Canyon de Chelly on to Hovenweep
11/14 - Hovenweep, Cortez, Mesa Verde & Durango
11/15 - Durango - Silverton, Ouray, Cottonwood Hot Springs
Issue #2 includes Colorado, Carlsbad, Austin, New Orleans, plus!!
Website and Photos by Logan Perkins. For Inquiries, or to Donate: logan@priorities.org
Livable Cities Newsletter #1 Index -- Livable Cities Home -- Livable Cities Sitemap
The Priorities Institute -- The Priorities Institute Sitemap -- Beer Pages
Livable Cities Online Magazine
November 1-15, 2005 - ISSN #1099-3231
Zion - Angels Landing
Flagstaff, Arizona
Livable Cities is an Online Magazine from The Priorities Institute - ISSN #1099-3231
A big objective of the Livable Cities online newsletter is to highlight interesting, unique and replicable components of community design. More on this can be found on The Priorities Institute website: www.priorities.org - and thoughout these two websites. However, as a warm up, click on any of the links above for a wonderful adventure into our spectacular natural world of Utah and Arizona
Livable Cities Home -- Livable Cities Sitemap
The Priorities Institute -- The Priorities Institute Sitemap -- Beer Pages -- Art Pages -- Animals
Livable Cities Online Magazine
ISSN #1099-3231
Website and Photos by Logan Perkins. For Inquiries, or to Donate: logan@priorities.org
-- Art Pages
-- Art Pages